Innovation is not just a matter for management: How EUROPART generates Ideas
The entire workforce as a driver of innovation? This is Europart's experience. We asked how our employee app drives innovation management.
Steffen Heritsch
Communication Specialist
For the second time in a row, Europart is one of the TOP 100 most innovative medium-sized companies in Germany. One success factor: Flip - and hundreds of ideas submitted by employees via the employee app. Our interview partner is Executive Assistant Kira Kebekus. She provides insights into innovation management at the leading partner for commercial vehicle workshops and operators of truck and bus fleets in Europe.
"We would probably never have come up with 50 to 60 percent of the ideas ourselves. We rely on those who work on the process or system concerned on a daily basis."
Kira Kebekus
Head of Innovation
Europart also uses the employee app for submitting suggestions for improvement. How exactly have you established this?
The app is our platform for innovation management. The ideas already existed before, but now we have a structured process and a system to manage everything. In the menu under "Ideas and Innovations" there is a separate tile where employees can submit their ideas with videos, pictures, and documentation. The idea is then processed further by the ideas and innovation team. 
So, with our employee app, we have created a short and simple process to receive ideas and suggestions for improvement. Organisationally, we have set up a central office that evaluates the ideas together with experts and implements them in the best way possible. In the future, we will go one step further and build a team that will deal with related topics such as digitalisation, innovation and sustainability. 
Ideas and improvement requests cannot be submitted anonymously via the employee app – why is that?
We thought about it, but ultimately decided against anonymous suggestions. On the one hand, because critical questioning is part of what we do - on the other hand, so that we can involve those who submit an idea in the implementation. In addition, we incentivise all employees whose suggestions are implemented.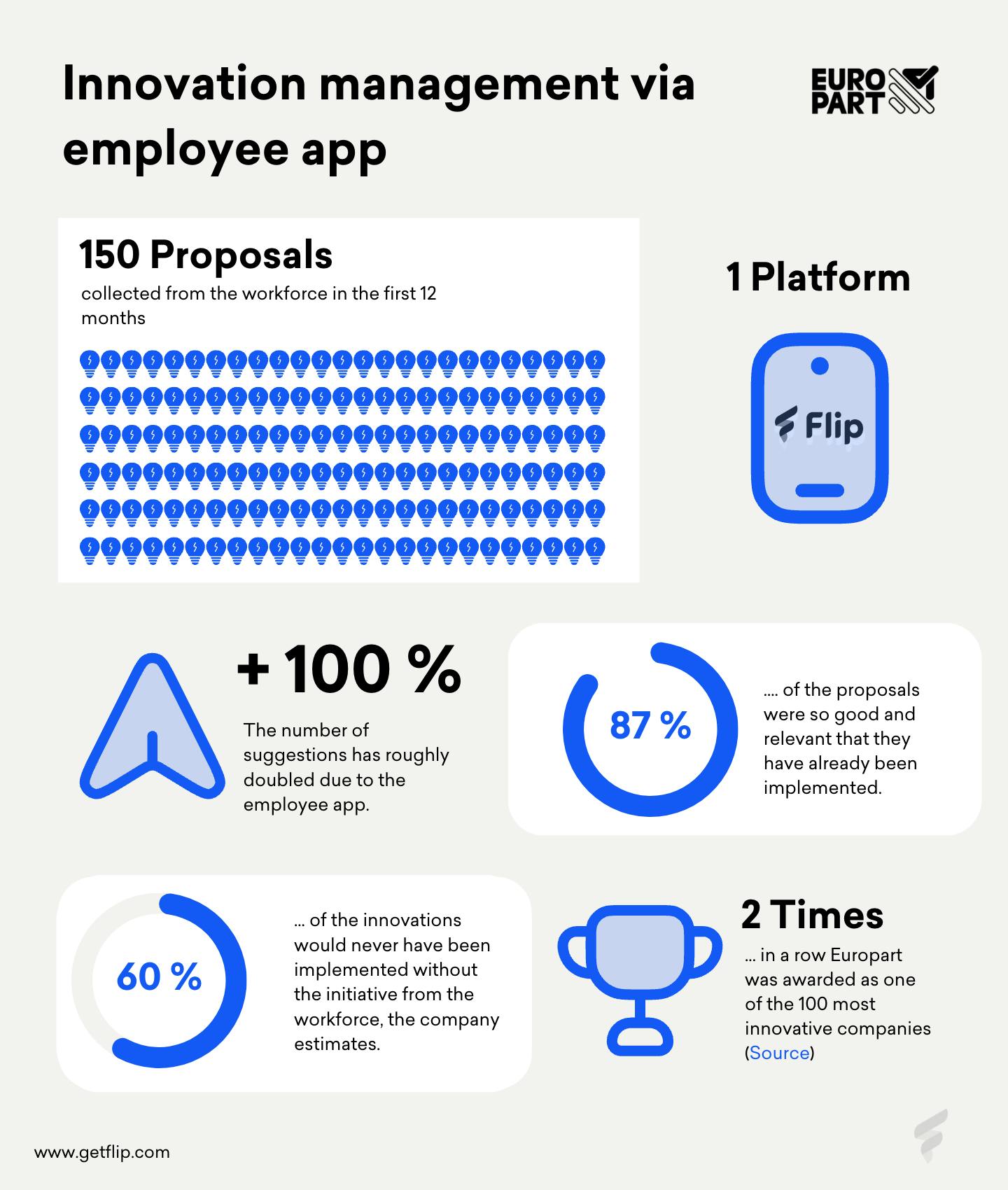 So there have always been suggestions for improvement - how were the ideas voiced beforehand?
Most of the time it was done in the day-to-day work via the manager, or it was brought up in a working group. But since this happened in an unstructured way and there was no documentation, a lot of it fizzled out.
From which areas do the suggestions mainly come?
Mainly from the sales department and the branch offices, because the colleagues there work with the product and experience the pain points in the processes themselves - accordingly, they also benefit from the improvements. Of course, we also push the commitment with incentives, for example with vouchers, but ultimately there is a great deal of personal initiative to improve something.
What ideas are submitted?
Among other things, suggestions for improvements to the systems, such as additional programming. But also, ideas for the employee app itself. Most of them are process-related ideas to improve employee's own workplace and everyday working life.
How employees submit their ideas
This information framework is the basis for any suggestion for improvement at Europart:
Name 
Department 
Subject 
What is the current situation? 
What is negative about the current situation? 
What is your suggestion to optimise the situation? 
Effect: Process optimisation / Cost savings / Increase in turnover / Employee satisfaction / Other 
Upload file 
How do the proposals contribute?
It goes in many directions. We give the employee the option to select the area already when submitting in the app. Mostly it's about saving time, effort, or costs. But the suggestions also pay off in terms of employee satisfaction and sustainability. 
One thing is very important: If a colleague submits an idea that may look small because we "only" save two minutes in a process step - then you have to multiply these two minutes by at least 160 branches. Or even by the almost 1,000 people in the sales staff. And then we achieve a huge success for the entire EUROPART Group. 
Is there a concrete example of a submitted idea?
A colleague suggested that we create individual offer sheets for our customers with product images and technical details. Our eCommerce and Data Development team implemented the idea within a few months. Now our salespeople can create an individual offer with just five clicks and are well equipped for customer visits. A really great suggestion for improvement!
"The important thing is: don't reduce the value of the app to thumbs up, but to what happens in people's minds. We have received feedback that it is very well received in the area."
How does the employee app affect the quality of suggestions?
The biggest difference from before is that suggestions reach us centrally and in a structured way. By giving employees a framework to describe the current situation, they go into more detail right away. This has improved the quality of the suggestions.
Do you get feedback from colleagues whose ideas have been implemented?
Yes, definitely. The suggestions for improvement are now approached in a structured way and we communicate via our app who had the idea for implemented improvements. This is very well received. In addition, there are colleagues who keep submitting suggestions. We can see from this: The system works.
Share
Don't forget to share this content