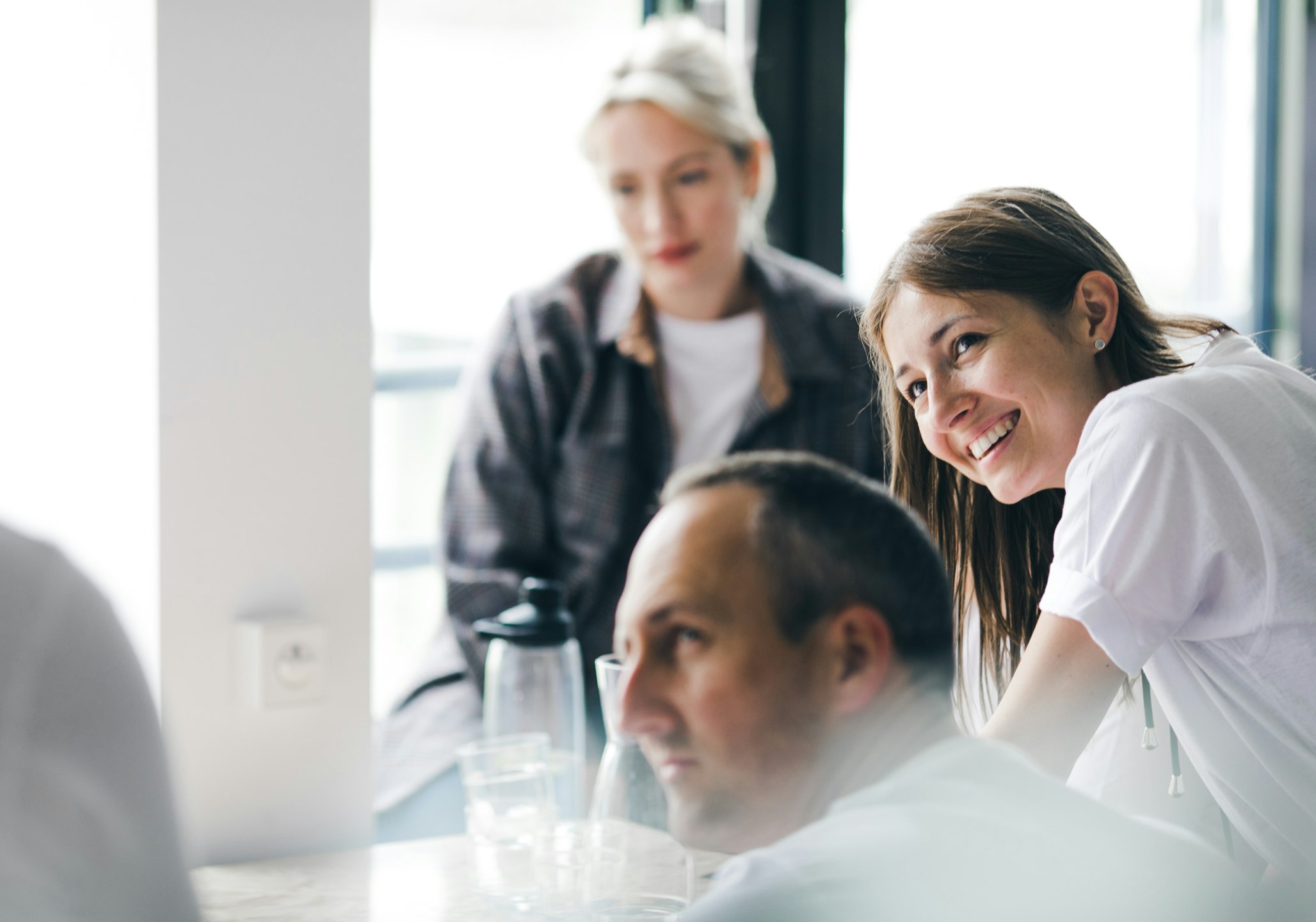 Why digital employee experience matters for engagement
With 6 out of 10 employees worldwide currently disengaged from work, the onus is on employers to reverse that trend. Learn how digital employee experience could be the solution to improving engagement.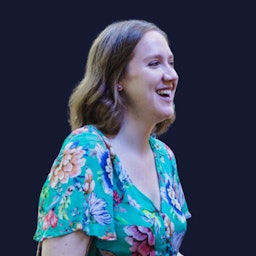 Elizabeth Ryan
Senior Content Marketing Strategist
Forrester, the global market research company, defines digital employee experience (DEX) as:
The sum of all the perceptions that employees have about working with the technology they use to complete their daily work and manage their relationship with their employer across the lifecycle of their employment.
Put simply, DEX is about how happy employees are with their day-to-day digital interactions. That could encompass anything from email sign-ons, requesting holidays, or attending a virtual all-hands call. Generally, DEX looks very different depending on your industry and the nature of your work. 
While office workers juggling 'the new normal' of hybrid working have to contend with asynchronous catch-ups and organizing meetings across five time zones, frontline workers, such as warehouse staff or healthcare workers need to be able to access rotas on the go and reach a manager quickly if there's any issues. 
Despite all this, 52% of employees believe that software related to their employee experience is dated and difficult to use, while a study by G2 found that 24% of employees have considered leaving their job because the apps and software they use are not a good match for their needs.
This is a disaster waiting to happen for many employers. Disengagement and the phenomenon of 'quiet quitting' is already a major concern, not to mention an expensive problem. 
As we enter the age of mass digitalization, modern workplaces must have a strategy for their DEX in place, or risk losing their talent to competitors with better digital solutions. 
Understanding a problem is half the battle, so in this article, let us walk you through some of the digital employee experience basics, such as how digitalization actually impacts employee experience, and the overall benefits of a digital workplace.
Understanding digital employee experience
It might feel like 'experience' as a concept is having a moment, but the shift toward experience-led improvements across all kinds of disciplines has been happening for years. With so much competition about, it's no wonder. At the end of the day, the target audience is likely humans - whether they're customers, candidates, or kids - and humans simply respond better to things that are easy, frictionless, and convenient.
For workers, a good digital employee experience might look something like this:
Seeing an ad for an upskilling workshop on the digital company newsfeed
Clicking through to a sign-up form
Registering for the workshop. The appointment is automatically added to their calendar
Ultimately, attending the workshop, and giving feedback on how they liked it via a push notification received directly after the event
You might think that the above employee experience sounds far too streamlined and sophisticated for any company to deliver to its employees, but I'd urge you to think again. A study by Salesforce found that 71% of employees want the same digital experience at work as they have in their personal lives, yet 67% of employees report that their digital experience outside work is better than inside it. There's clearly a gap here that needs addressing. 
The most important thing to understand about digital employee experience is how it impacts employee satisfaction and engagement. As we've already illustrated, disengaged employees are a global issue affecting almost every industry worldwide. Therefore, priority one on any company's HR agenda should be how to improve overall employee satisfaction. Digital experience is one key way to achieve this, as a good DEX strategy can improve communication, reduce friction, and ultimately give employees more autonomy and control.
How new technologies and digital tools transform employee experience
With new technology emerging all the time, especially in the field of artificial intelligence, the sky is the limit! Here are the four major ways that digital tools change the way employees engage with their work:
Automation: by automating repetitive tasks, digital tools free up employees' time to focus on work that requires human skills and expertise. A win-win for both your workers and the business.
Remote work: digital solutions, especially video conferencing, instant messaging, and project management tools, make it possible for employees to work from anywhere. This facilitates flexibility and improves work-life balance. 
Communication: just like how social media channels make it easier to connect and share information with friends around the globe, digital collaboration tools do the same for employees in a digital workplace. 
What are the benefits of improving digital employee experience?
At a glance, there are myriad benefits for companies that prioritize DEX.
Increased employee satisfaction: keep employees engaged by encouraging collaboration.
Improve onboarding: get new employees involved early on to increase the feeling of belonging.
Boost retention: reduce employee turnover and attract top talent by illustrating you are a modern workplace.
Enhance agility: with digital solutions, you can respond quickly to changing business needs. 
Foster positive work culture: a focus on employee connectedness and well-being through DEX translates into better engagement.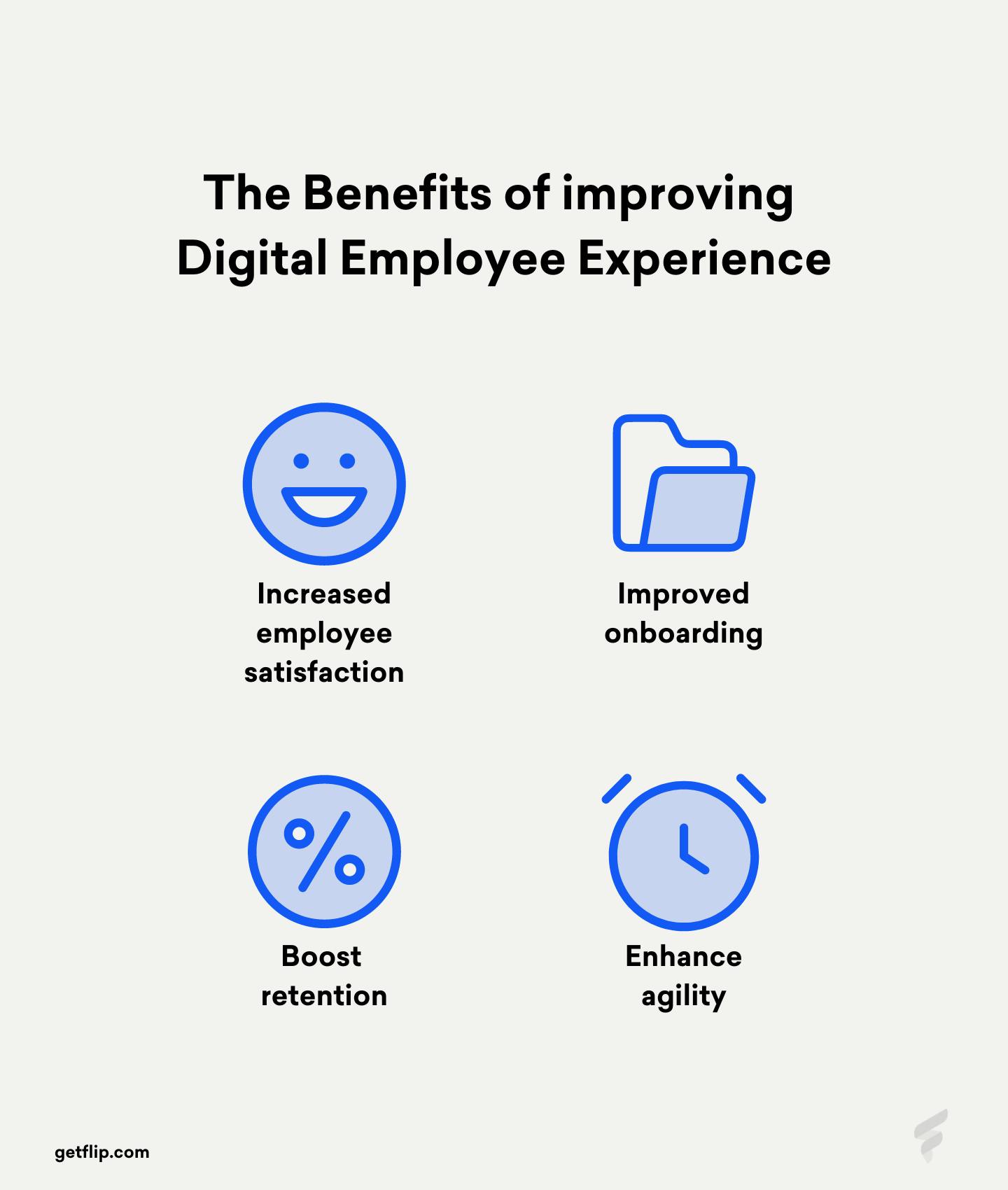 Exploring the 6 elements of employee experience
Now that we've run through what DEX actually is and how it can benefit your business, let's explore the six key factors that contribute towards a positive employee experience overall.
1. Physical workspace: creating a conducive environment
Whether your employees are office-based, remote, hybrid, or frontline workers, every staff member will benefit from a physical workspace that takes into account their ergonomic needs and encourages productivity. No matter what digital solutions you integrate, face-to-face interactions are still the #1 preferred form of communication for most employees, so ensure that you have a comfortable workspace that encourages open collaboration.
2. Technology and tools: empowering employees with digital solutions
Ensure that your employees have smart digital solutions, including software, tools, and devices, to perform their work to the best of their ability. Not only does this help to enable collaboration, but it can increase productivity and save time. Spending 30 minutes sifting through a clogged email inbox searching for a best practice document is an example of an issue that can be easily solved with a digital solution such as an employee app that integrates important documents into one centralized hub.
3. Collaboration and communication: enhancing teamwork and information flow
Efficient communication is paramount for any company's success, especially when you have a mix of office and remote, or office and frontline workers. Sticking up a poster on the noticeboard to announce a change to working hours isn't going to cut it in today's modern workplace. Enhance teamwork across different teams and departments by establishing communication channels such as instant messaging platforms, video conferencing tools, and project management software. 
4. Learning and development: nurturing employee growth and skills
By investing in learning opportunities for your workers, such as online courses, in-person workshops, and knowledge-sharing platforms, you illustrate that you care about your employees' overall personal and professional growth. Not only does this help your staff to upskill, potentially adding further value to the business, but it fosters a greater sense of well-being and overall employee satisfaction.
5. Work-life balance: promoting well-being and flexibility
Since the covid-19 pandemic, attitudes toward work/life balance have transformed. The workforce is increasingly made up of millennials and Gen Z-ers, who are known to value work/life balance highly. Giving your employees the option of flexible work arrangements and tools to improve work-life integration, such as digital time-tracking or scheduling, can help to improve job satisfaction and reduce stress levels. 
Caveat: access to digital work tools can increase workaholic tendencies in some. It's up to the company to create a culture where it's okay and expected for employees to disconnect after work. With Flip, push notifications outside working hours are switched off to ensure workers can keep their work-life balance in check. 
6. Culture and Leadership: fostering a supportive and inclusive workplace
92% of workers say it's "very important" or "important" that their accomplishments were recognized by senior staff and colleagues. This statistic illustrates how important it is for employers to actively recognize achievements and cultivate a work culture that encourages a sense of achievement and belonging. A digital tool like an employee app helps to facilitate this with a social media-style newsfeed where leadership can publicly show gratitude, contributing to greater employee loyalty.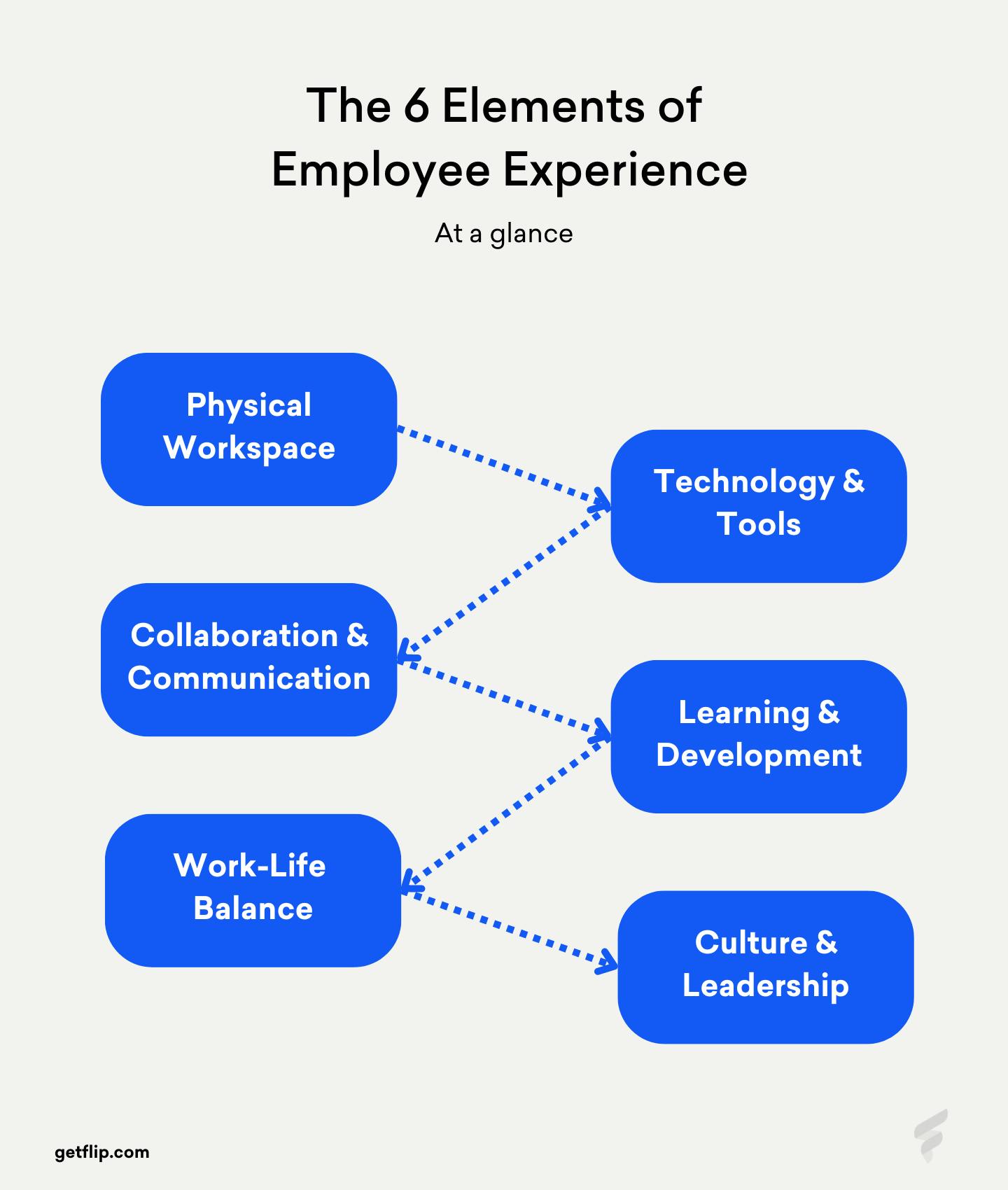 Factors influencing digital employee experience
While understanding a problem might be half the battle, an important element of this is to consider exactly who and what can impact DEX. 
Management buy-in - you need support from senior leadership for DEX initiatives to succeed.
Target audience - ultimately, you want to improve the work lives of your employees, so try to understand their needs and ask for their preferences and feedback.
User-friendliness - any new tools should be quick and easy for employees to pick up, not increase frustrations and complexity. 
The importance of feedback and engagement for DEX
The second factor outlined above illustrating the need to consider what your employees actually want and need leads us to another very important element of any digital employee experience - feedback. Not only does employee feedback play a pivotal role in shaping your DEX initiatives in the first place as they can offer their specific pain points and insights, but the opportunity to provide feedback in general is key to employee engagement. 
By choosing a digital communication solution that has an integrated feedback system, your employees will feel a greater sense of autonomy and ownership, ultimately positively feeding back into how engaged they feel. This isn't just a win for employee experience, but for your business too. Your employees, especially frontline workers, are in the weeds of the work every day and can highlight issues that might be impossible for management to spot. 
By seeing their suggestions and feedback in action, employees feel more engaged and have a greater overall sense of belonging at the company - which is great news for retention.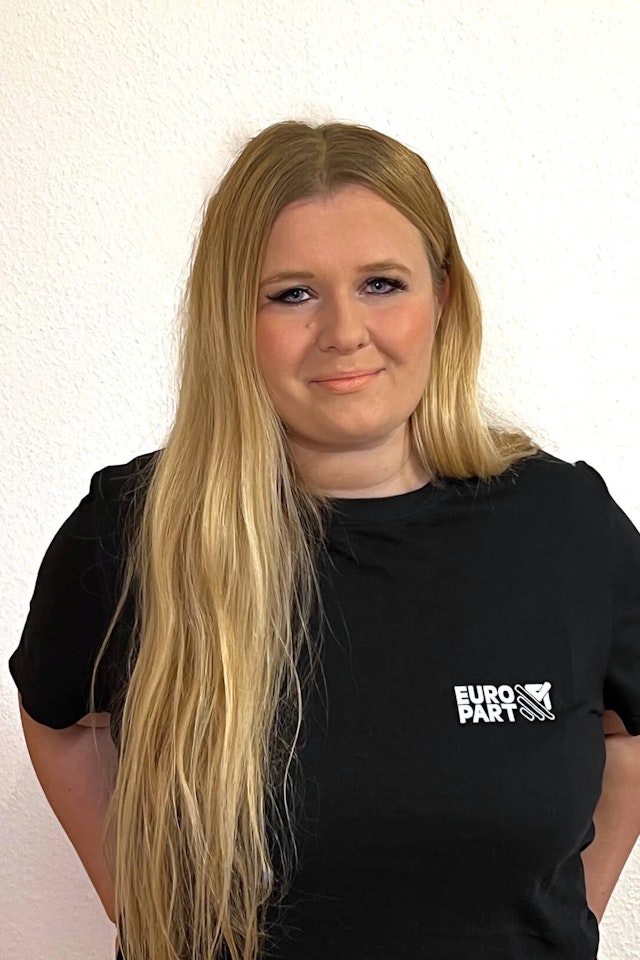 We would probably never have come up with 50 to 60 percent of the ideas ourselves. We rely on those who work on the process or system concerned on a daily basis.
Kira Kebekus
Head of Innovation
Digital employee experience challenges
Digitalization has a profound effect on employee experience, as it does in almost all other areas of life, but it doesn't come without its pitfalls. Businesses must be aware of the potential obstacles when considering DEX initiatives to ensure that they address any issues that could stand in the way of success.
The following four challenges are worth considering:
Digital skills gap: ensure that you have the necessary training in place to help your employees adapt to any new tools or digital solutions. Even better - choose a tool that is intuitive and user-friendly so that all employees can get onboarded in no time. 
Data security and privacy: digitalization is a wonderful advancement for any company, but it's imperative that your systems have robust cybersecurity measures to protect any sensitive information. 
Change management: any big process or company change requires effective change management to ensure your employees embrace the new DEX initiatives with open arms. Read our article Effective Internal Communication in Change Management to learn more. 
Human interaction: while technology brings many benefits to digital employee experience, it cannot replace face-to-face interaction. Ensure that your employees have an adequate balance of real human connection alongside digital to keep employee satisfaction high. 
Tools for enhancing digital employee experience
They say a bad workman blames his tools, but if you choose the right tools for your business from the offset, you'll only be reaping the rewards of increased employee engagement and satisfaction.
There are many different tools on the market that can positively impact your digital employee experience, and what you ultimately choose will depend on the unique needs and requirements of your workforce. Broadly speaking, these tools focus on communication, collaboration, employee feedback, performance management, learning and development, and more. 
Slack and Microsoft Teams are popular instant messaging tools that enable file sharing and integration. Leapsome is an HR tool that facilitates employee feedback and helps with performance management. SharePoint is a Microsoft tool for storing, organizing, and sharing files. Coursera and Udemy for Business are learning platforms that give your employees access to digital training. 
Then you have an employee app like Flip, which integrates all the functionalities of the previously mentioned tools (and more!). With Flip you can:
Communicate: via an instant messenger-style tool with an in-built language translation feature, which is especially beneficial for global teams. 
Integrate: shift planning, time-tracking, holiday requests, and more, in a very user-friendly way.
Engage: feedback surveys, opportunities to interact, and a digital 'suggestion box' helps keep employees engaged.
Knowledge-center: with file storage and e-learning, your employees have all the resources they need with just a few clicks. 
The best bit? Flip can be used on any device, including personal smartphones, making it perfect for your frontline workers out and about. 
Examples of Flip in the field
Don't just take our word for it. The best advocates for Flip's employee app are our customers!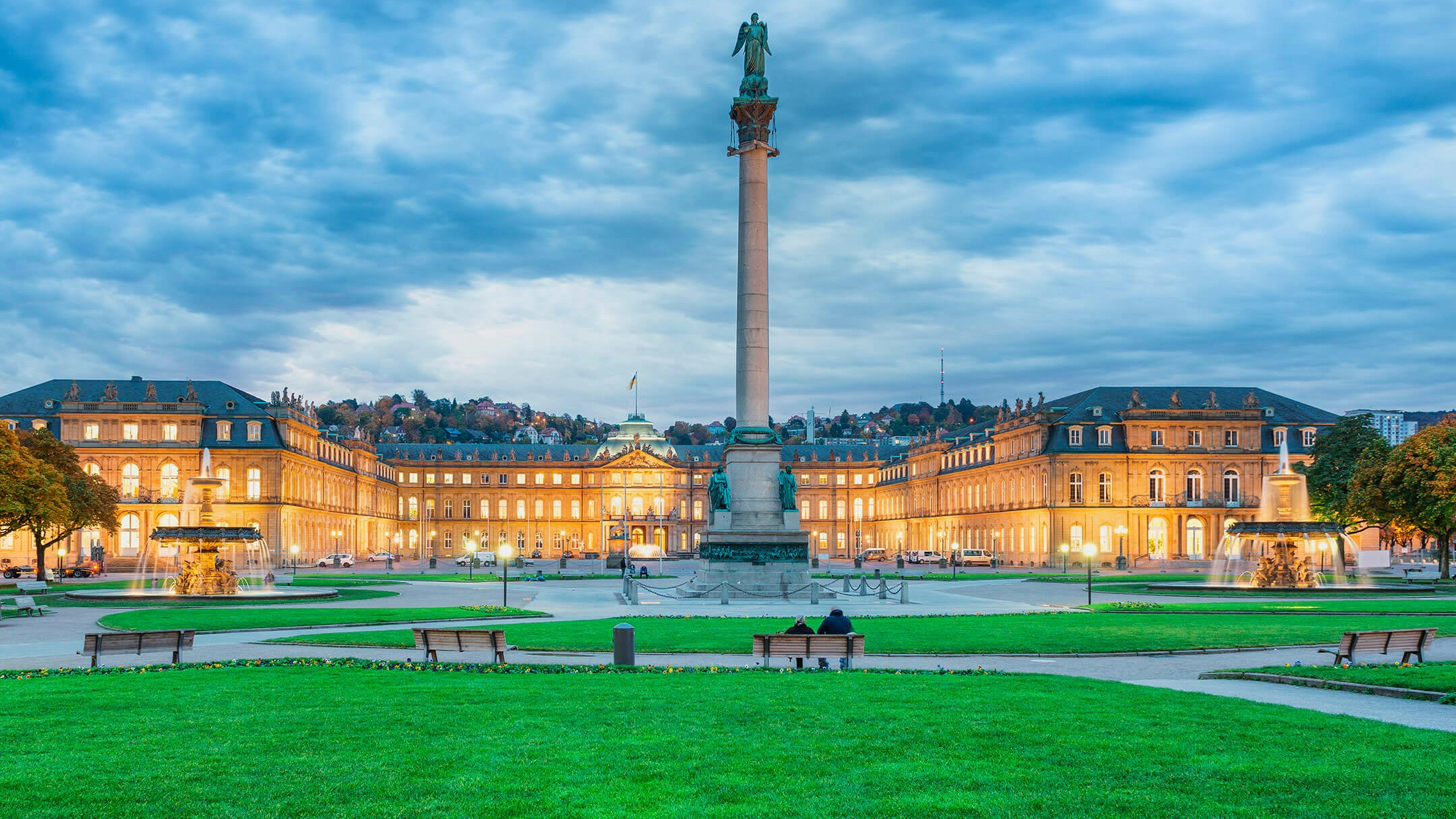 Success story: the City of Stuttgart
Since the beginning of 2021, Stuttgart, the capital of Baden-Württemberg, has been using Flip to communicate with its nearly 700 trainees and students. Due to the large number of vocations and courses of study, such as forestry, road construction, and education, consistent communication and information proved difficult in the past. Trainees and students were difficult to reach, especially during the vocational school and college phases.
After introducing Flip:
Quality of training increased
Communication became more efficient 
Trainee networking has been enabled
"It's super easy to communicate, and the quality of information is better. There is a digital exchange in the app that allows a direct feedback option for the first time." Maximilian Hubl, Project Manager City of Stuttgart.
You can read more about the City of Stuttgart's successful digital employee experience initiative using Flip here.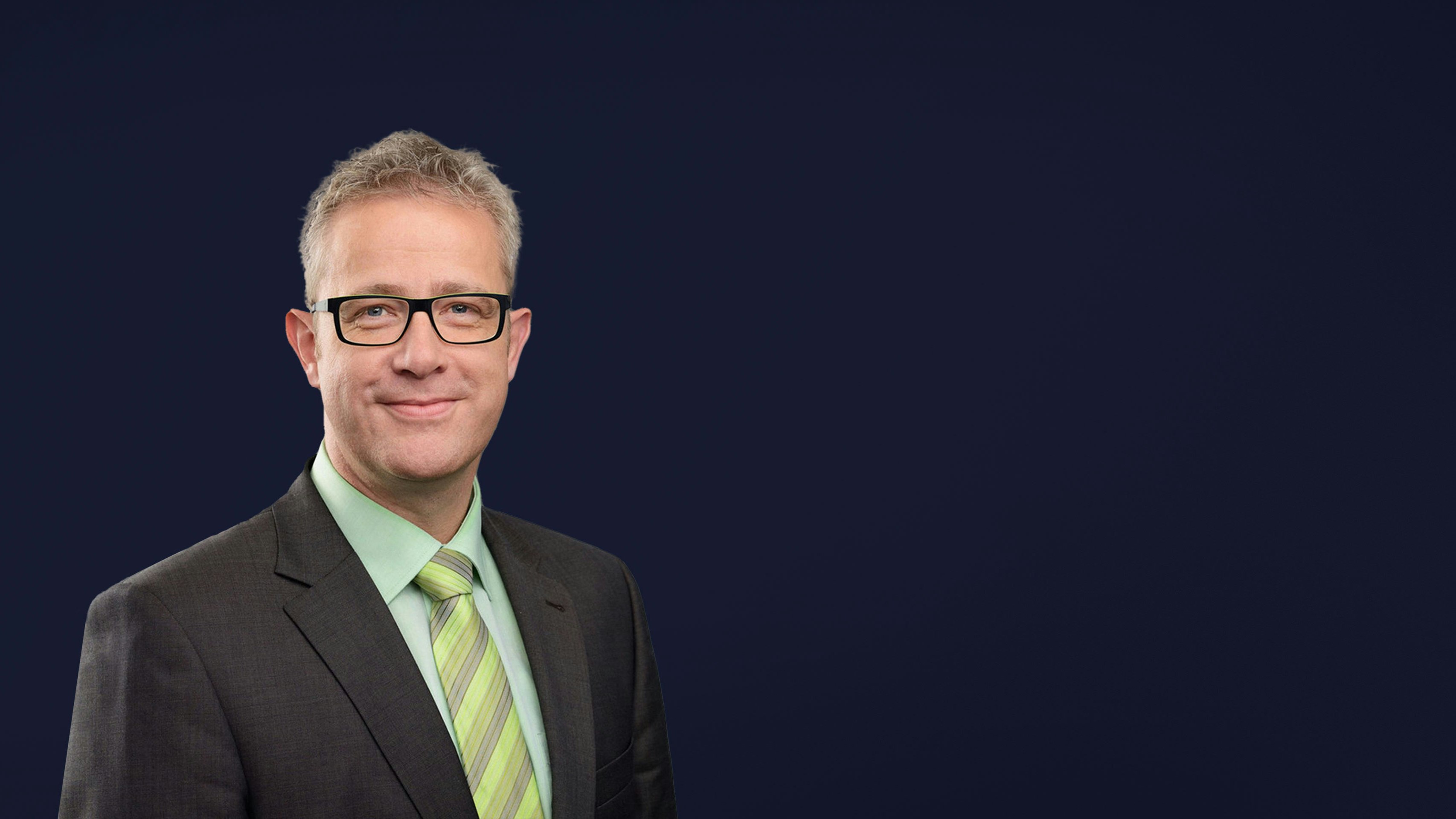 Success story: mhplus
mhplus, one of Germany's largest company health insurance funds, has been relying on the Flip employee app since 2018. With dual students and trainees trained nationwide, mhplus needed a flexible and location-independent communication tool to get in touch with everyone at any time. As their young cohort is digitally native, they wanted to provide an easy, intuitive onboarding for their students. 
After introducing Flip:
Established successful communication tool for students, trainees, and managers, no matter where they were based
All communication done via privacy-protected Flip instead of private tools
Streamlined usability as Flip was integrated into existing IT infrastructure
25% fewer meetings
"Communication via Flip is modern and fun - and fun should always accompany everyday work." Michael Heß, Head of Human Resources Development mhplus health insurance.
Find out more about how mhplus transformed their digital employee experience with faster onboarding using Flip here. 
Conclusion: upgrade your digital employee experience to improve engagement and retention
If your business is struggling with disengaged employees and poor communication, it's time to consider your digital employee experience strategy. By bringing your tools into the modern age and choosing a solution that mimics popular social media apps that your employees already use in their private lives, you can increase employee satisfaction and autonomy, leading to higher retention rates.
Don't forget to involve your workers from the get-go! Listen to their needs and pain points to determine the best strategy for your business, and make sure they're part of the feedback process every step of the way. 
Re-engaging demotivated employees is a major challenge, but with the right DEX strategy in place, you can reverse this trend and foster a new, modern, and positive workplace culture.