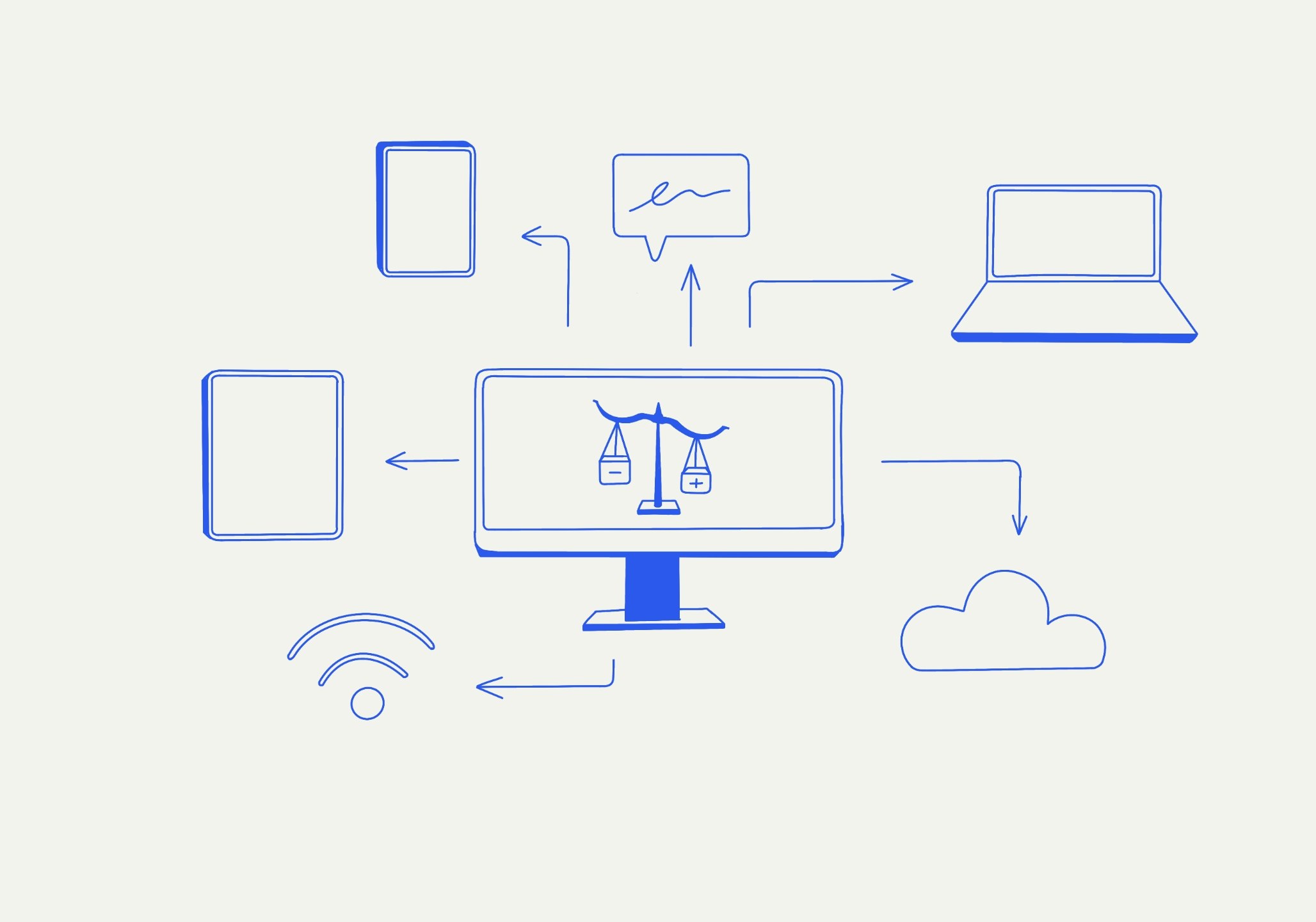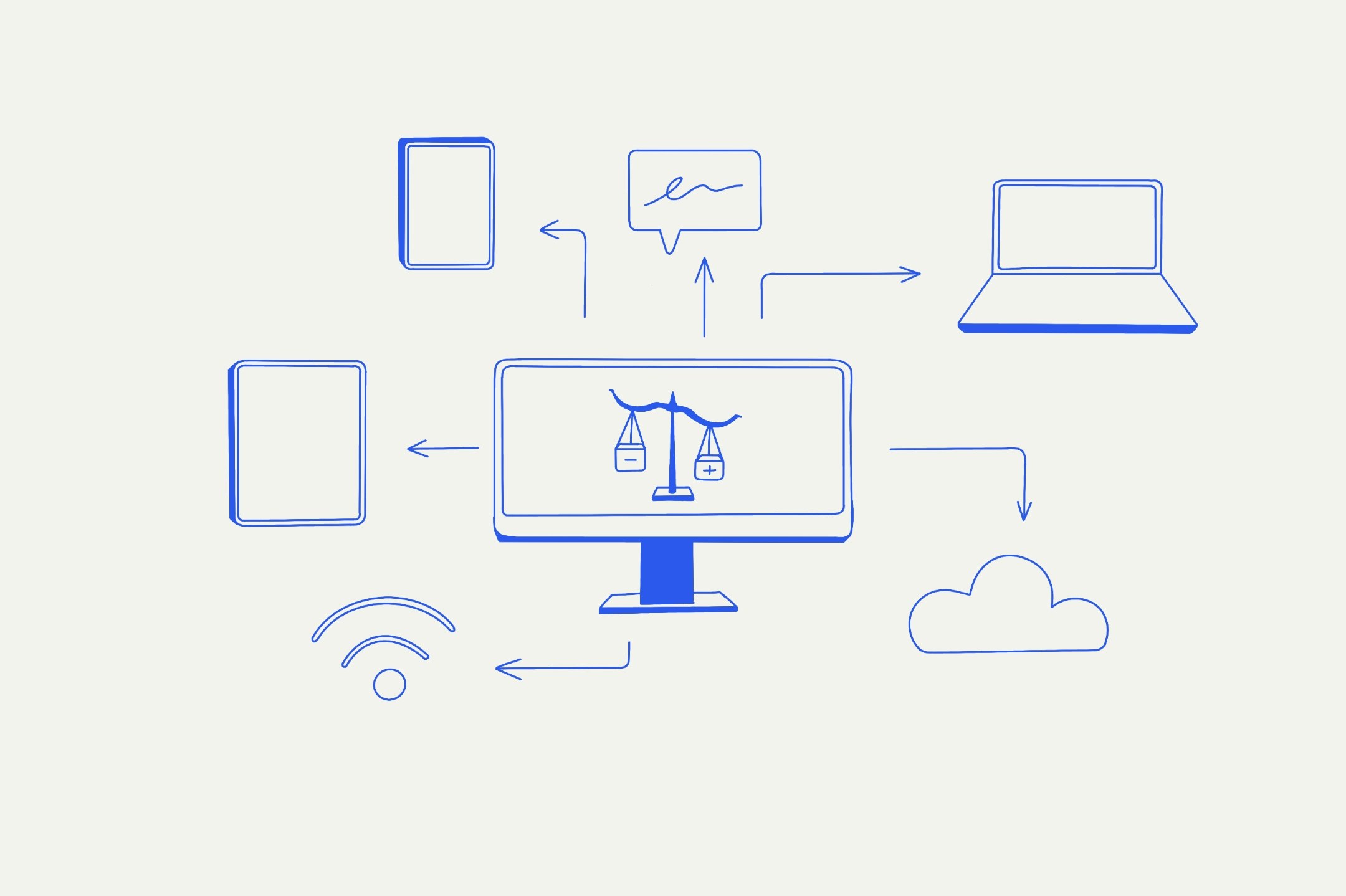 (Social) intranet: a comparison of advantages and disadvantages
Is it the single source of truth for the company or a neglected storage cupboard for outdated content? In this article, we'll explore the benefits and drawbacks of an intranet - and compare it to alternative internal communication tools.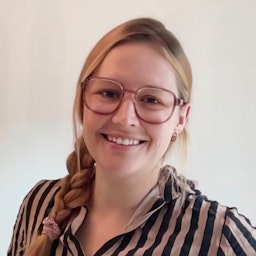 Helena Kleine
Freelance editor
If you're contemplating implementing or establishing an intranet, you've come to the right place. However, answering the question of an intranet's advantages and disadvantages is like discussing the pros and cons of apples.
The response largely depends on the following factors:
Who is asking?
What specific variety or form are we talking about?
What alternative options are available?
For instance, crunchiness is a decisive factor for those seeking a crisp apple. However, people with dentures might consider this as a disadvantage. When compared to a banana, an apple is easier to carry in a backpack, but when compared to a snack of mixed nuts, it serves as a better hiking companion.
Below, you'll find an overview of various types of intranets, along with a comparison of their advantages and disadvantages in relation to other internal communication tools.
If you only require a general overview, stop right here - the following graphic should suffice:
Advantages of a (social) intranet
Enables knowledge and document management
Enhances internal communication facilitation
Ensures employee accessibility
Boosts employee engagement and, consequently, productivity
Enhances collaboration capabilities
Enables targeted communication to specific audiences
Supports diverse processes
Offers an element of entertainment
Integrates social features
Disadvantages of a (social) intranet
May become complicated and confusing based on the setup
Poses security risks if staff training is insufficient
Requires significant integration and maintenance efforts
Often overly complex for frontline workers
Frequently tied to Office licenses and company devices
Inaccessible or challenging to access for employees without personal PCs or company smartphones
Rarely equipped with offline functionality
Low usage among employees
What does the term intranet mean? The three (social) intranet types
Intranet generation I: knowledge database
The traditional concept of an intranet typically refers to a knowledge database characterized by a rigid structure and limited search capabilities. Users must have precise knowledge of what they are seeking or a file's specific location. This intranet type primarily serves as a document management system and is less focused on facilitating information exchange. First-generation intranets were frequently developed in-house and, in some instances, continue to persist as legacy systems. However, they are no longer being actively implemented due to their inherent limitations and drawbacks.
Intranet generation II: social intranet
Knowledge databases have evolved into comprehensive platforms that foster collaboration, facilitate personalized content, and encourage active exchange. These modern intranets incorporate social elements such as newsfeeds with comment functions, "Like" buttons, and employee blogs, enabling direct communication among employees within the intranet environment. Moreover, content can be tailored and delivered in a targeted and personalized manner to specific user groups. Some social intranets even feature internal chat functions, further enhancing real-time communication capabilities within the platform.
Intranet generation III: digital workplace
In this type of intranet, you can make it the central hub for various applications. By integrating external applications such as instant messengers (Teams, Slack, etc.), project management tools, calendars, and more, the intranet becomes the starting point for accessing these applications. Desktop workers can conveniently open the intranet at the beginning of their workday and seamlessly transition to different applications within the intranet environment, streamlining their workflow and enhancing productivity.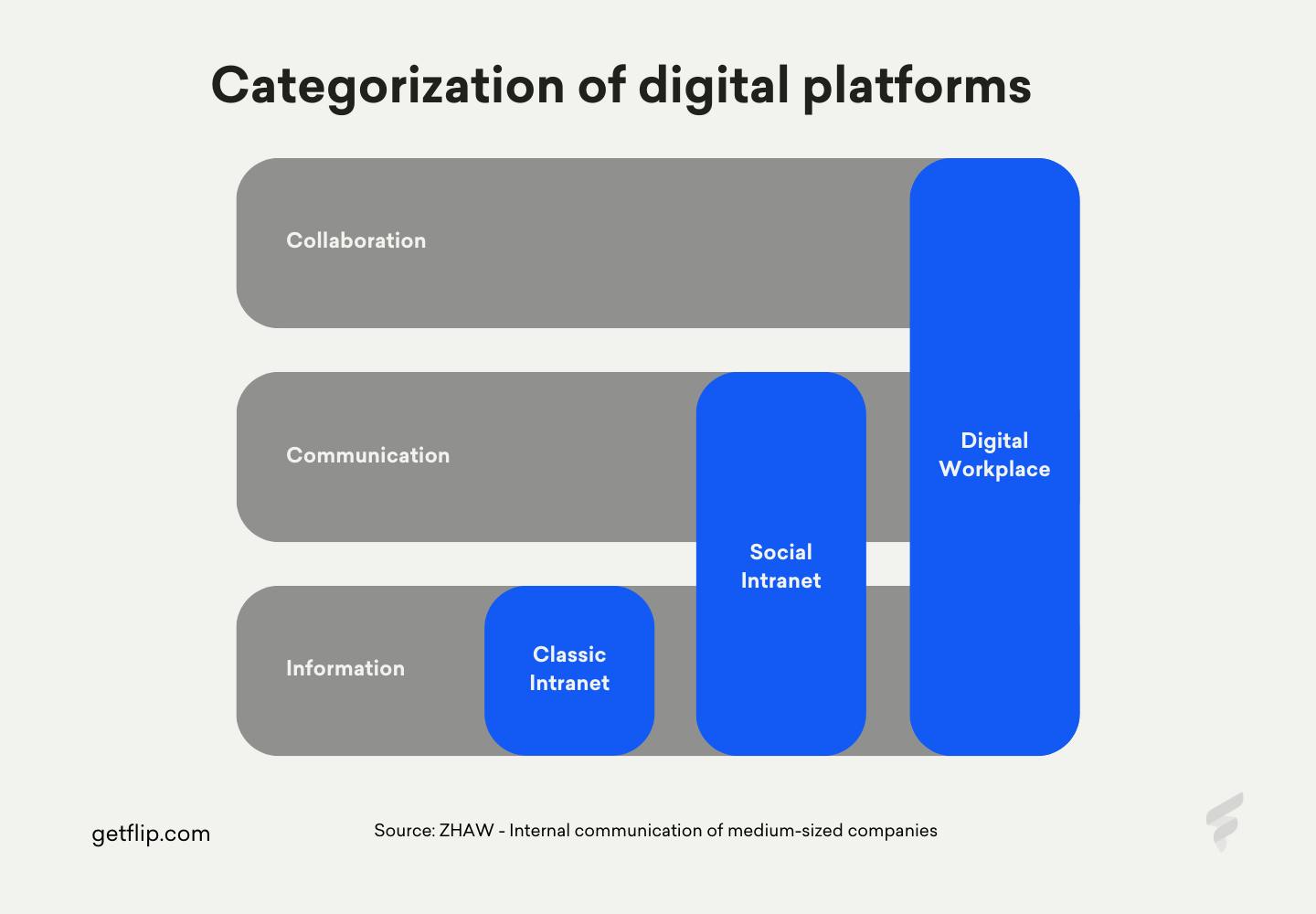 Digital platforms: this is offered by the classic intranet, the social intranet, and the digital workplace.
The advantages of intranets
If you are contemplating implementing an intranet solution, you'll likely find yourself in a transitional phase between Generation II and Generation III. The shift between these generations is ongoing and fluid, with the process characterized by varying levels of implementation and adoption.
But what must a good (social) intranet be able to do? In short, four things:
Make knowledge easy to find 
Provide information to staff members
Enable a direct connection to contact people and experts
Simplify processes within the company.
Like all internal communication tools, the intranet can be used for any combination of the following four aspects:
Consumptive use → consumption of knowledge (also: "passive use")
Contributive use → contribution of knowledge (also: "active use")
Hedonistic use → use for entertainment 
Social use → building and maintaining social relationships with colleagues
Arguably the most significant advantage of an intranet is its ability to encompass multiple internal communication requirements, setting it apart from many other tools in this domain.
It serves as a platform for collaboration, social exchange, and even entertainment, thereby boosting motivation and acceptance among users.
However, this advantage can quickly become a disadvantage if intranets become overly complex "all-in-one solutions" with excessive functions. An intranet truly shines when utilized for its intended purpose: internal communication.
Communication tools can be used in four different ways.
The disadvantages of intranets
No technology is without its drawbacks. As good as intranets are for connecting employees, managing knowledge, and supporting processes such as onboarding, they are often labor-intensive to maintain. 
The disadvantages of intranets that companies typically struggle with are:
Complex intranet structures, particularly those perplexing for less experienced users, often result in low utilization rates. This issue is particularly prevalent with first-generation intranets. Additionally, the full-text search function on modern intranets frequently falls short of expectations, leaving room for improvement.
Employee insecurity regarding what they are allowed to share and distribute via systems like SharePoint poses a significant concern, as highlighted by a study conducted by the University of Duisburg-Essen. This uncertainty creates the potential for security breaches, even though intranet providers typically maintain high-security standards. However, without proper training, employees may unknowingly share internal information or provide unauthorized access to sensitive content. It emphasizes the need for comprehensive training programs to address these insecurities and promote responsible usage of the intranet system.
Costs and effort play a significant role in ensuring the intranet delivers personalized and valuable content. According to intranet expert Patrik Kolligs, achieving this goal requires a substantial integration effort and one-time costs ranging from 30,000 to 200,000 euros, as outlined in his guest article on intranet implementation. Moreover, operating the intranet requires ongoing resources. It's crucial to meticulously plan and establish the intranet and continuously evaluate its functionalities. Failing to do so may result in negative consequences and distractions, rendering the intranet less effective or potentially harmful.
Low reach is a significant challenge facing intranets, as highlighted in a study conducted by the ZHAW. On average, the intranet only reaches around 50% of employees, with frontline workers being even less frequently reached. This issue arises because employees are responsible for actively seeking out new content by logging in and searching the intranet. If content is distributed indiscriminately without being tailored to specific target groups, it can lead to information overload, discouraging usage. A targeted approach to content distribution is essential to ensure that relevant information reaches the intended audience and encourages engagement with the intranet.
This might explain why, as per the ZHAW study, only 50% of companies evaluate the implementation of an intranet. Conversations with our clients have also highlighted these challenges, with many opting for an employee app instead. The mobile version of a social intranet is often favored as it can be set up more swiftly and has better reach among frontline workers compared to a traditional desktop application. The flexibility and accessibility provided by an employee app make it an attractive alternative for organizations seeking effective internal communication and engagement solutions.
Intranet: advantages and disadvantages in practice
Intranet: a comparison of advantages and disadvantages
Indeed, while no internal communication tool is without flaws, the preference for social intranets has shifted in recent times. Many organizations, including Flip customers, initially considered implementing an intranet but ultimately opted for an employee app. This choice allows for better reach among employees who lack a PC workstation and requires fewer resources to maintain. Some companies have even made the decision to completely abolish their intranet, while others have chosen to integrate their intranet with an app and selectively deliver relevant intranet content to their operational employees. This approach reflects the evolving landscape of internal communication, where organizations are exploring different combinations and strategies to meet their specific needs and enhance employee engagement.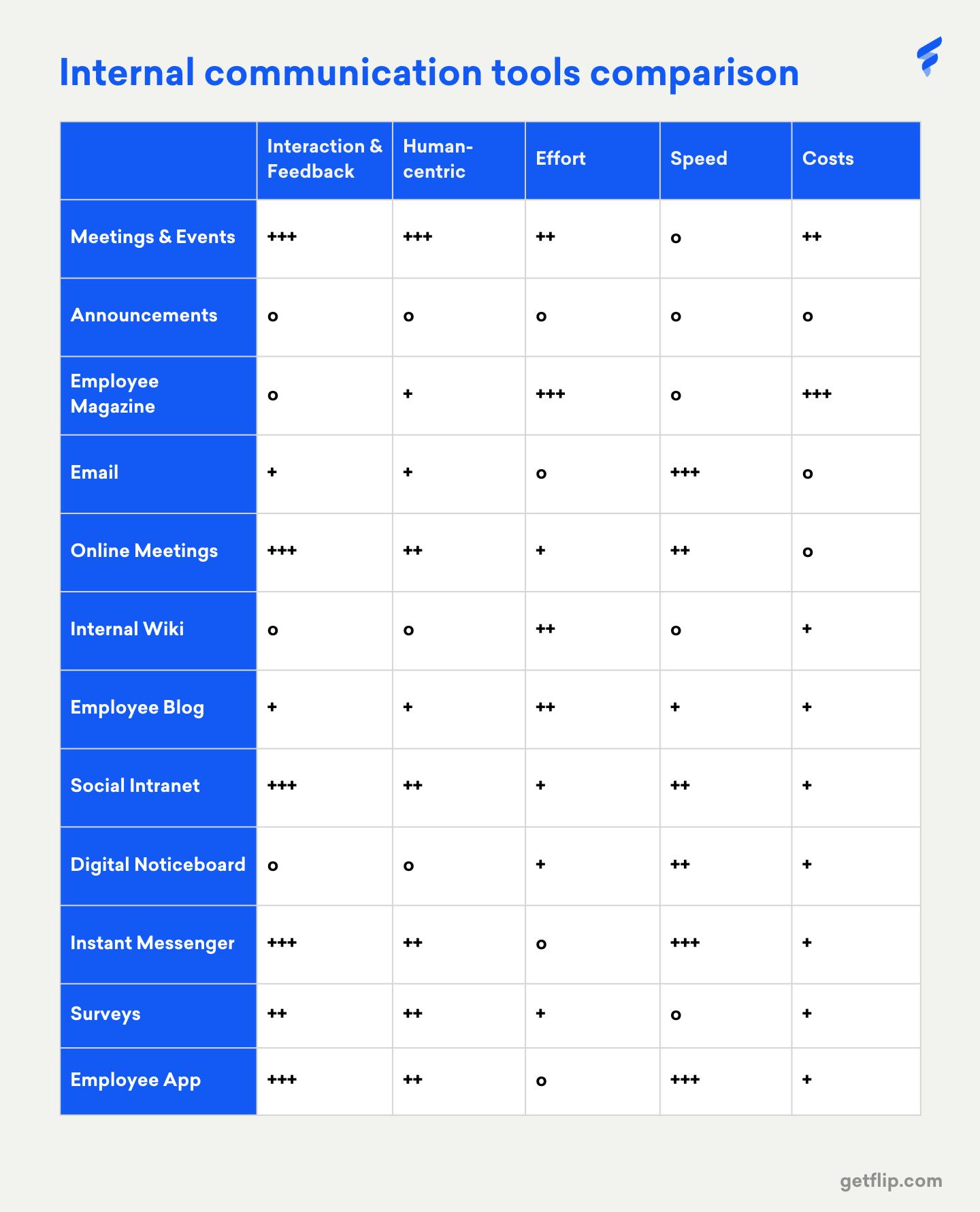 Employee app instead of intranet - can it work?
A mobile intranet in the form of an employee app offers several advantages over desktop solutions, and it's important to highlight these benefits:
Comprehensive functionality: An employee app encompasses many of the features and advantages of an intranet, including a newsfeed, task management, employee directory, and survey functions. It provides a unified platform for various internal communication and collaboration needs.
Integration capabilities: Employee apps can integrate with other systems and tools used within the organization, such as duty scheduling, time recording, sick leave, and holiday management. This seamless integration streamlines processes and enhances efficiency.
Secure and direct communication: The app provides a direct line of communication between colleagues and superiors via chat, replacing potentially insecure channels like WhatsApp. This ensures confidential and compliant communication within the organization.
User-friendly and intuitive: Employee apps are designed for simple and intuitive handling, allowing employees to easily access and navigate the platform. They also offer intuitive feedback options, empowering employees to provide input and suggestions using their smartphones without requiring company hardware.
In essence, employee apps serve as a portable intranet, providing a wide range of functionalities while allowing easy integration of additional applications as needed.
Conclusion
In summary, modern intranet solutions and employee apps have replaced the notion of intranets as clunky knowledge databases. Employee apps offer enhanced reach, engagement, and usability, making them a compelling choice for organizations, particularly those with a significant number of frontline employees.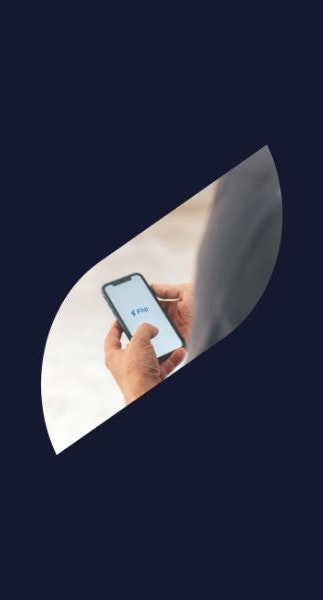 Intranet or employee app - which is best for your company?
Receive an initial assessment for your requirements in around 30 minutes.