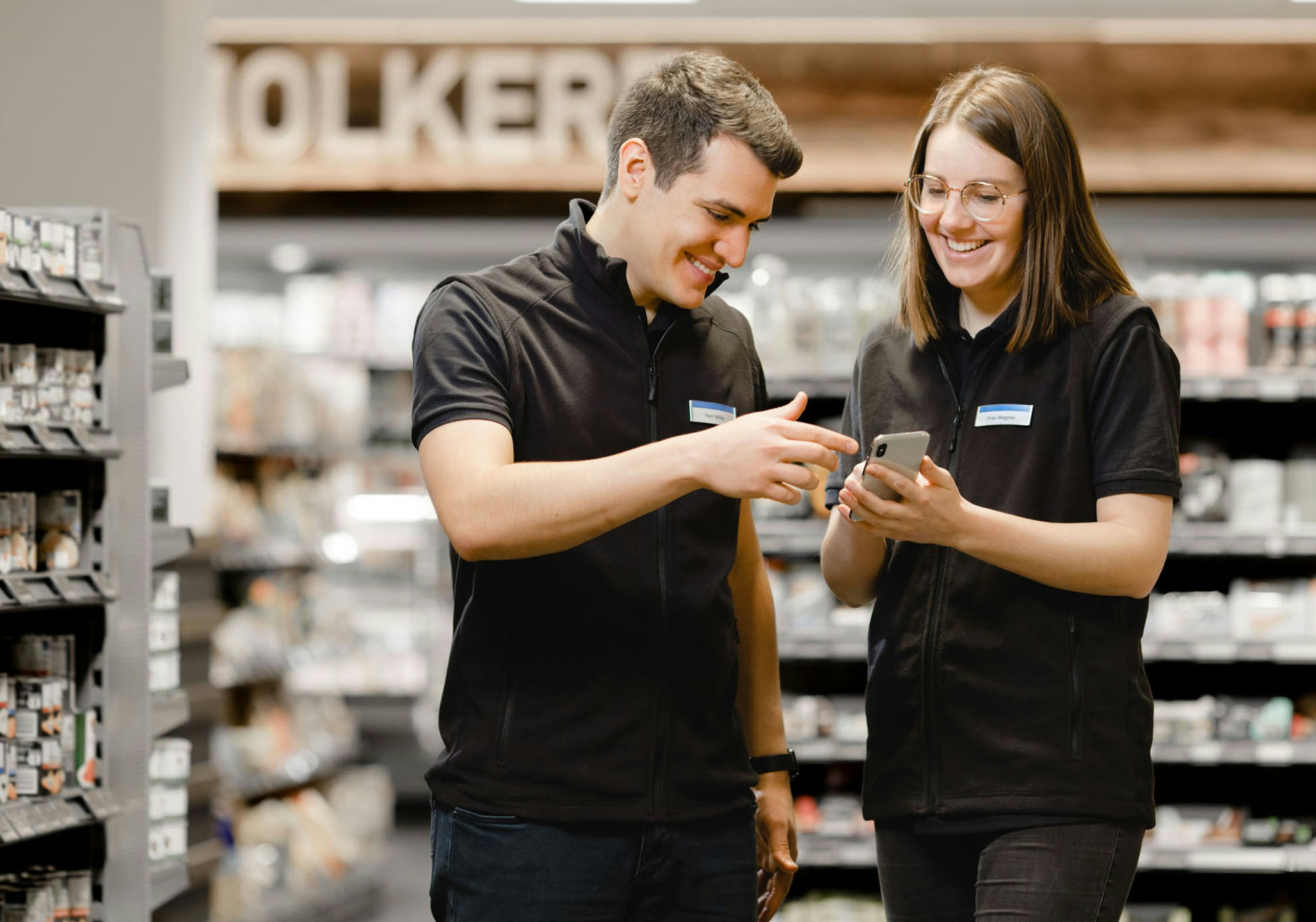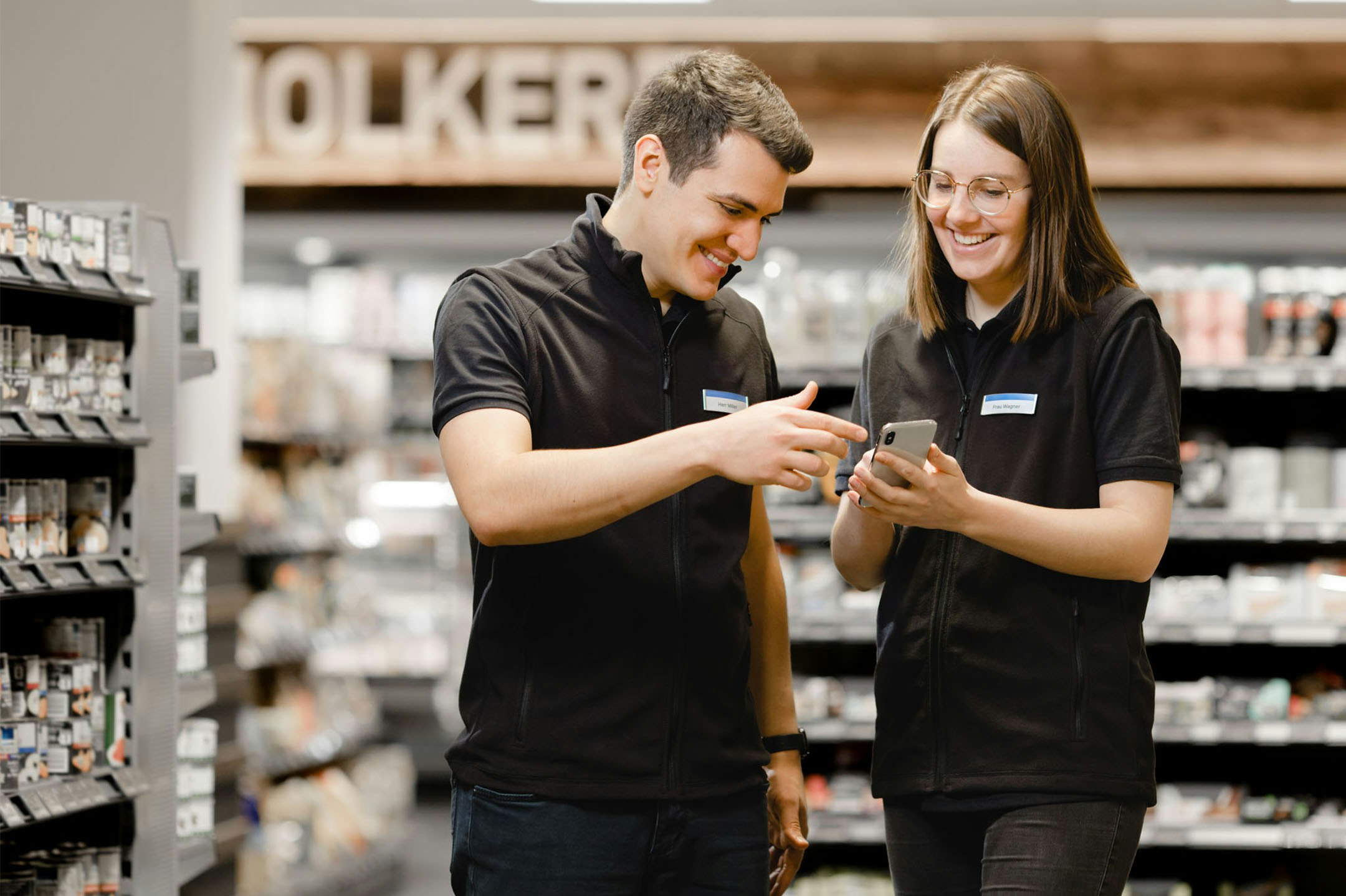 Employee engagement solutions in retail: how well-known brands succeed (with practical tips)
Employee engagement is critical in the retail sector. Retail employees are the face of your business and the direct point of contact with your customers. Read on to discover the solutions that some of the best-known retailers use to engage their staff.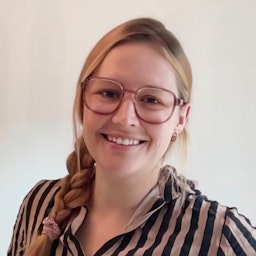 Helena Kleine
Freelance editor
The retail sector hasn't had it easy in recent years. Between the pandemic and supply shortages, companies have been busy solving urgent problems. Now the shortage of skilled workers is also hitting the industry, and many retailers are asking themselves: how can we ensure that our shelves will continue to be reliably stocked? How will customers continue to receive friendly service? The answer lies - at least to a large extent - in solutions for staff management.
What is employee engagement in retail?
Employee engagement refers to employees' emotional connection and commitment to their jobs and tasks. This includes, among other things, a willingness to work hard for one's employer, contribute to the company's success, and provide a high level of customer service.
Studies show that high employee engagement increases employee satisfaction and productivity and reduces employee turnover. At the same time, customer satisfaction and loyalty are increased. Therefore, retail companies must develop and implement strategies to promote employee engagement.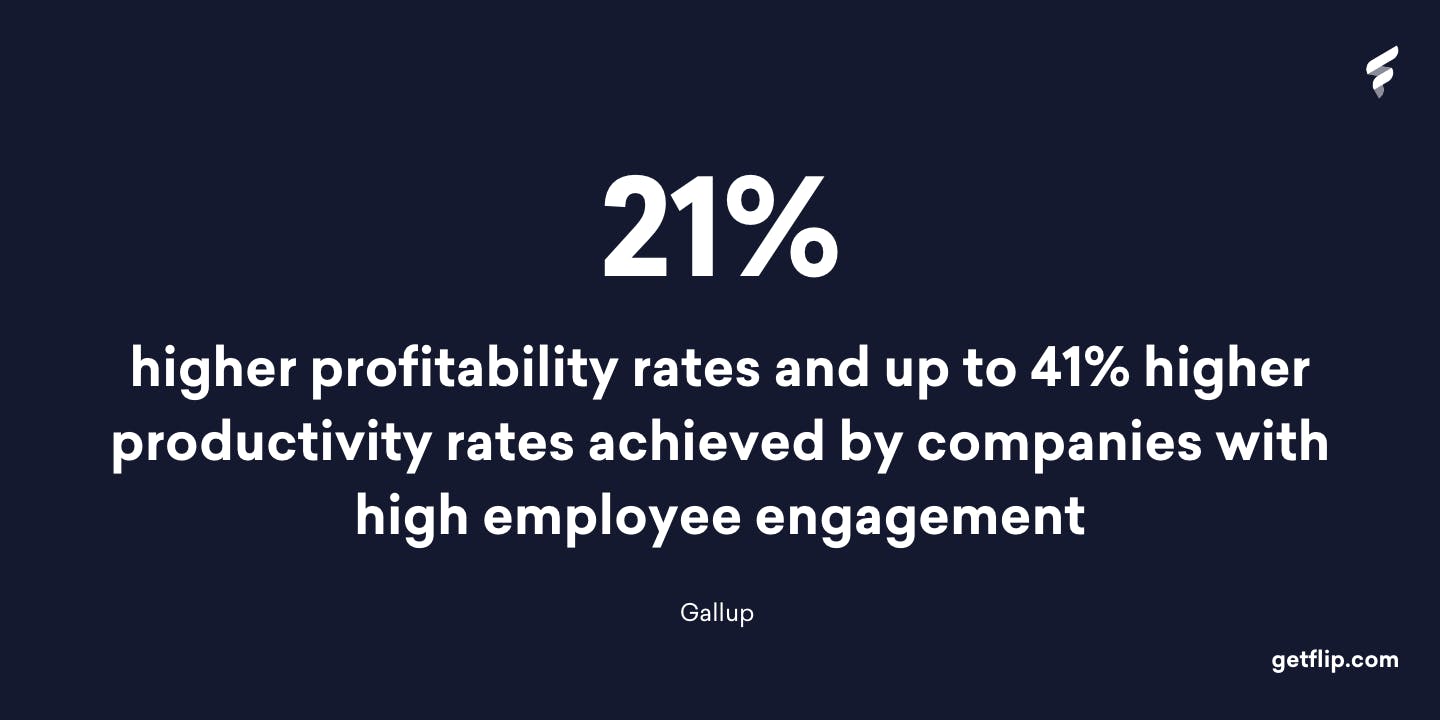 What are employee engagement solutions for retail?
Engagement solutions are strategies, programs, or tools that can be used to promote and improve employee engagement. In the retail sector, these are, above all, measures that counteract the stresses and strains typical of the industry.
Employees in retail often struggle with the taxing hours (shift work), the physical demands of their job, job security and wages, and the stress of difficult interactions with customers.
To mitigate these factors and promote employee satisfaction and engagement, take a look at the seven employee engagement solutions that succeed in retail.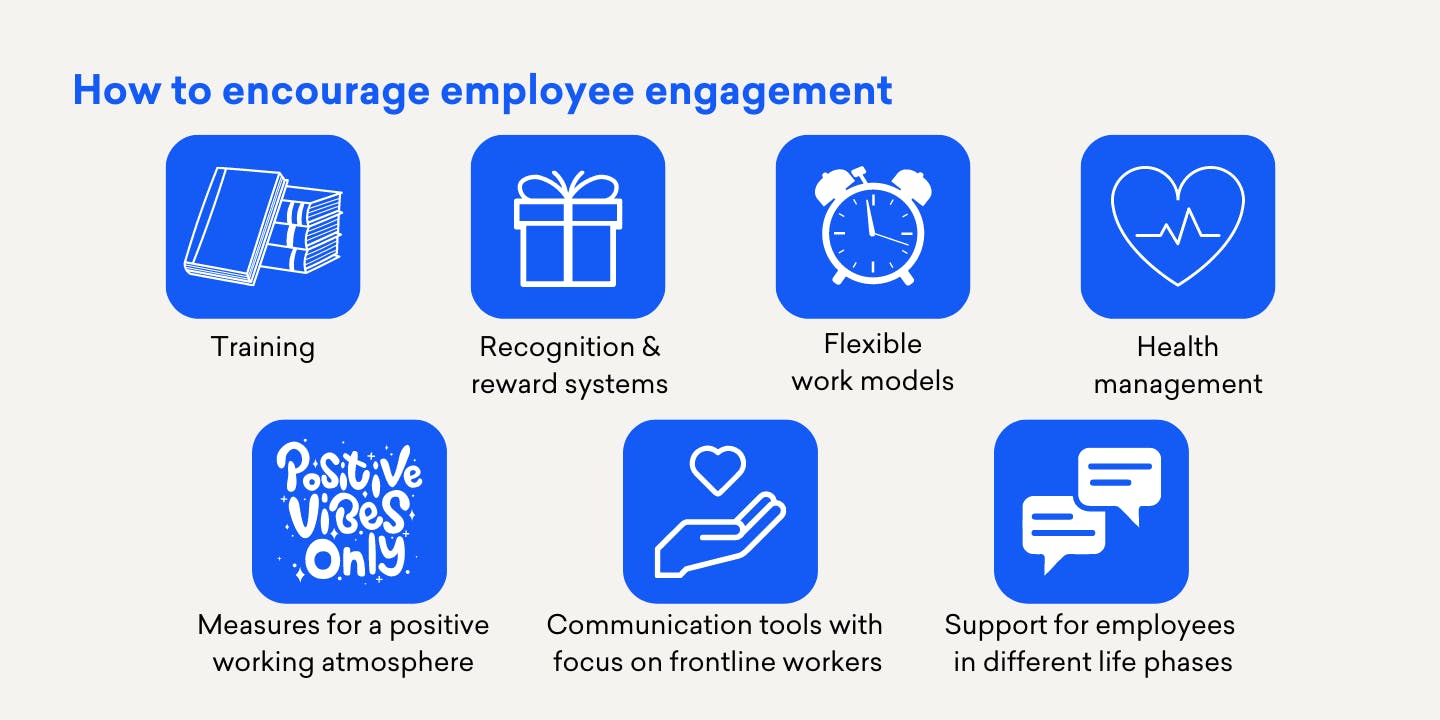 What the best retailers do for employee engagement
You don't have to reinvent the wheel to improve employee engagement as a retailer. Just observe what the strongest brands in the industry are already doing to find which solutions work and what concrete implementation looks like. To help you out, we've taken a look at the strategies and initiatives of industry leaders Apple, REWE, and toom.
From training programs and reward systems to innovative communication solutions and work-life balance initiatives, these companies define best practices in employee engagement and offer valuable insights for other companies looking to improve their own engagement strategies.
How does Apple Retail motivate its employees?
Often imitated, never matched... Companies in all industries want to recreate Apple's strategies. On top of its business success, the visionary technology company is also ahead in employee engagement. Apple stores are known for their extraordinary atmosphere, good-humored "geniuses," and expert advice. 
Like any forward-thinking company, Apple Retail combines a variety of engagement solutions. These include:
Training and education: Apple is known for its extensive training programs. The company provides ongoing learning opportunities that help employees better understand and develop the Apple brand and products.
Good salaries: Apple Retail pays better than many other retail companies, recognizing that financial compensation is essential to employee engagement and satisfaction. On Kununu it says: "[...] the average salary at Apple Retail Germany B.V. & Co. KG [is] between €29,600 for the position "Warehouse Clerk" and €108,500 for the position "Engineer". Salary satisfaction is 3.6 out of 5, which is 13% higher than the industry average."
Incidentally, all employees can participate in the company's stock option program and acquire share options at discounted prices.
A strong mission: working for Apple has prestige. The products employees sell in Apple stores are renowned worldwide for innovation and quality. And identification with a company's values and goals is hugely important for employee engagement. 
A unique corporate culture: Apple - unlike almost all other companies of its size - is organized functionally rather than by business unit. As a result, employees from different disciplines work more closely together. And according to reports from former employees, Apple stores have an exceptional atmosphere.
A former Apple Store Specialist tells Business Insider: "There is a lot of gossip. As a new employee, you are 'clapped in'. At the end of every shift meeting, there is applause. If someone quits, they are 'clapped out' on their last day. Sometimes you clap just for fun, to make a little kid feel good... There's just a lot of clapping."
How does the German food retailer REWE go about it?
REWE Group, one of the leading food retailers in Germany, has developed a diverse range of initiatives to improve employee engagement. The focus is on work/life balance.
Flexible working models and work/life balance: REWE relies on flexible working models tailored to its employees' individual needs. Starting with part-time training and the possibility of a part-time career to support during parental leave, REWE is an attractive employer. And the company even goes one step further: those who need a more extended break can take up to six months off for a sabbatical at REWE - without giving any reason. 
Good pay: in addition to the working models, REWE sees the importance of fair remuneration for its employees. REWE pays according to the collective wage agreement, and offers additional payments and a company pension scheme to give its employees a secure financial future.
Health and wellness offers: to promote its employees' well-being, REWE offers a range of health and wellness offers. These include support for the gym as well as a dedicated fitness program.
App for internal communication and feedback: REWE has introduced our employee app to strengthen internal communication. It offers not only all relevant information, but also the possibility to exchange with colleagues, other stores, and the head office. Employees can use the app to give feedback and suggestions directly, helping to shape and influence wider company decisions.
What does employee engagement look like at the DIY store toom?
toom, a leading DIY chain in Germany, also relies on a variety of measures to promote employee engagement.
Flexible working models and individual support: toom supports employees through various phases of their lives. It is the first DIY store awarded the 'work and family' berufundfamilie audit certificate. This includes daycare facilities, opportunities for time off to care for family members and sabbaticals, and a tutoring program for employees' children.
Training and further education: the further education and training of employees is a high priority at toom. In addition, toom offers its employees participation in the cycle-to-work program and implements health management measures. These include cancer screening, flu vaccinations, and the Fit.net program.
Employee app: to promote internal networking and the exchange of information, toom has also introduced the Flip employee app, which can be accessed by all 18,000 employees on mobile devices or desktops. Employees receive target group-specific information, so they're always in the know without being overloaded with unnecessary updates. In the medium term, the app should simplify and handle various HR topics such as duty scheduling or time recording.
What 3 things can I do today to increase employee engagement?
The path to better employee engagement starts with the first step. Below, we're sharing three concrete ideas you can implement immediately - from your desk today. 
But let's be honest: you can't completely turn your employee engagement around overnight, and you can't avoid a well-thought-out strategy and consistent implementation for sustainable success. But there's no better time for that than now, either.
Improve internal communication 
Clear and open communication lays the foundation for employee engagement. When employees can stay updated on company goals, performance and changes, contribute their ideas, and give feedback, they easily identify with their employer. If you do just one thing today, familiarize yourself with our guide to improving internal communication.

Show recognition and appreciation
Employees are more committed when their work is recognized and appreciated. You could thank a colleague today for something they have helped you with recently. Once that is done, we recommend developing a formal recognition and rewards program to shine a light on outstanding performance.

Record status quo
In this article, we share the six Employee Engagement Principles. Make a list: how well do you currently rate your company for each factor? Don't forget to compare your assessment with the impressions of your colleagues. Next, you can conduct an employee survey to determine what your employees think about the issues. By the way: 58% of HR managers report a stronger bond between employees and the company after employee surveys.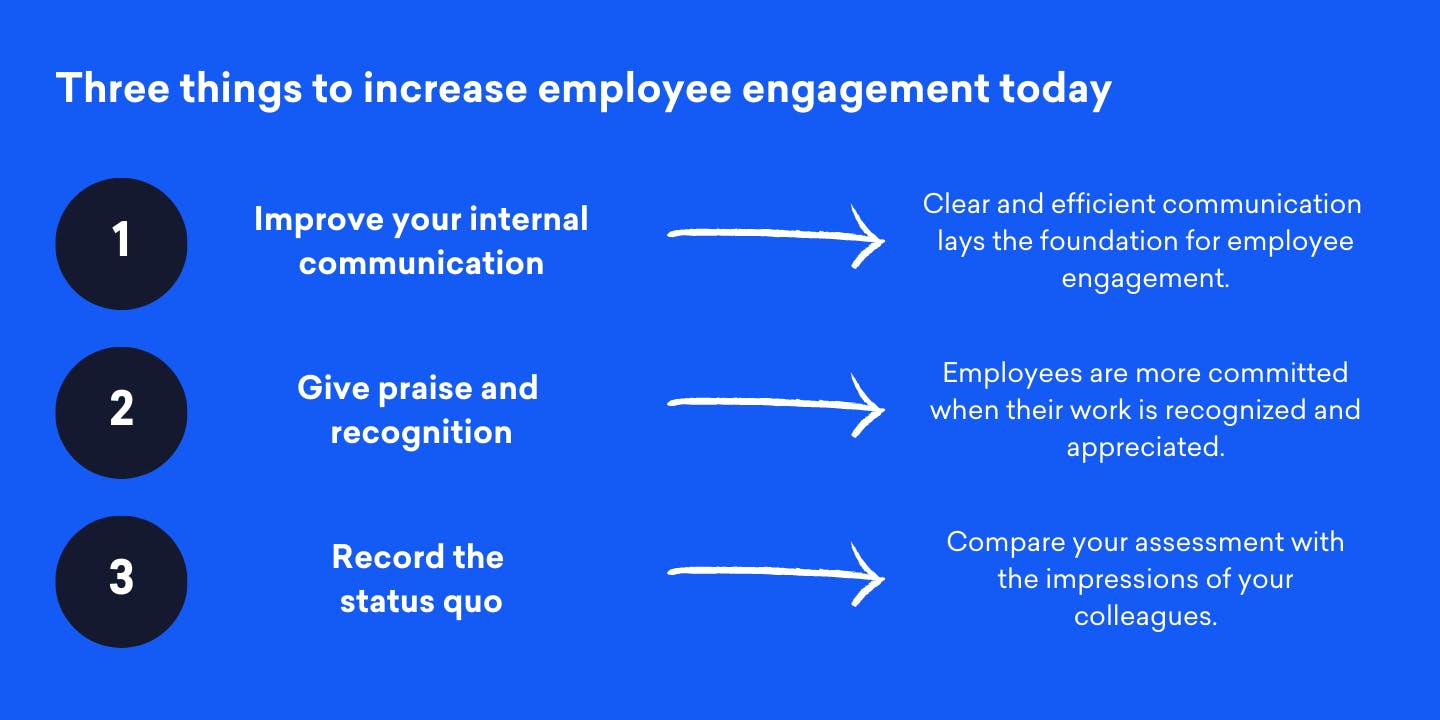 Conclusion: retail employee engagement with modern solutions
In a dynamic and increasingly digitalized retail landscape, employee engagement is becoming increasingly important. Successful companies such as Apple, REWE, and toom use a variety of strategies and tools, from training programs and flexible working models to recognition and reward systems. And one thing must always be in place: effective, targeted communication.
This is where the Flip employee app comes in. It enables retail companies to share information in real-time, both between management and the employees, as well as between branches. By providing information to specific target groups, employees can be informed about current special offers, stock levels, and product details. And they can network with each other, clarify questions with supervisors, and deliver their feedback.
Successful retailers understand that fostering employee engagement requires a holistic strategy that considers both organizational and technological aspects. The Flip employee app can play a crucial role in closing the communication gap and optimizing the flow of information throughout the company.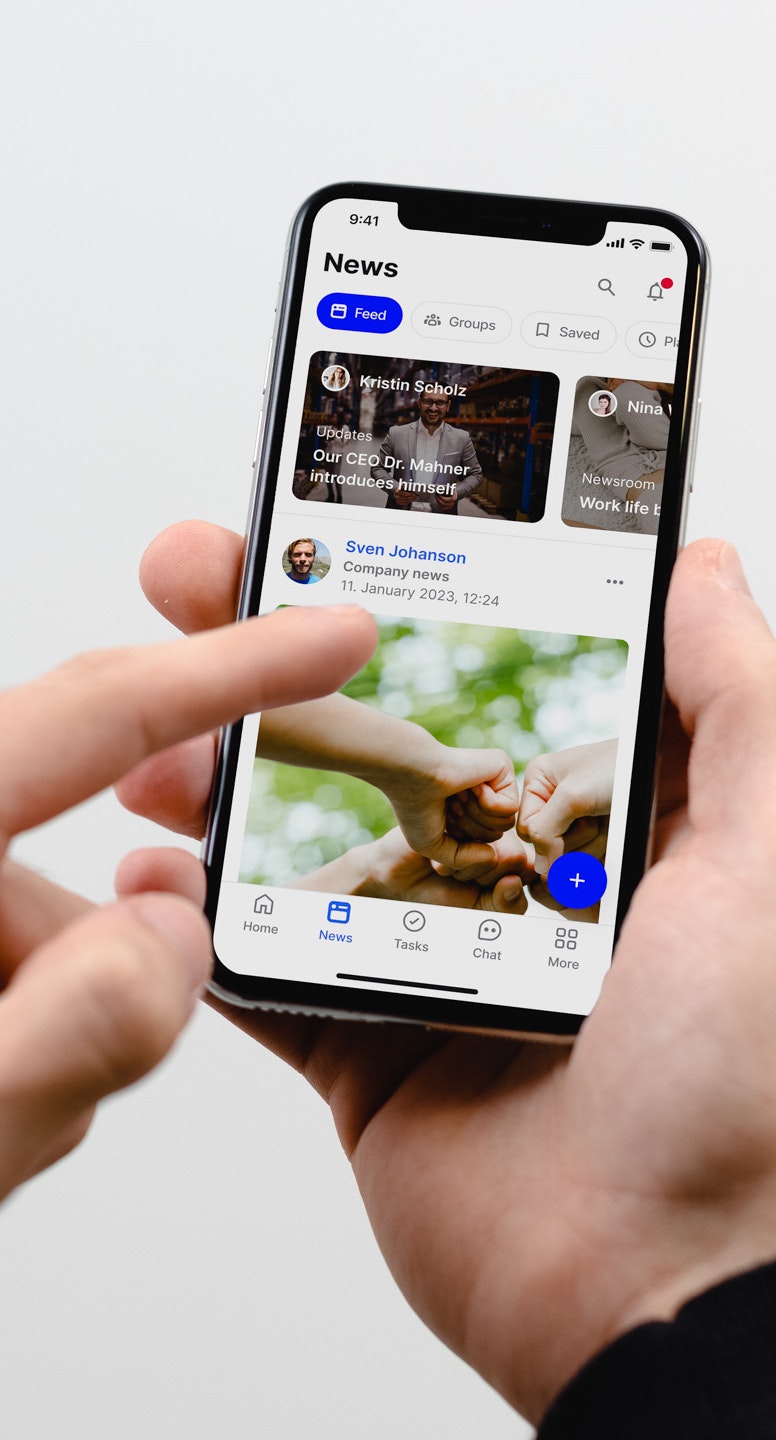 A solution to increase your retail employee engagement?
Get to know Flip and learn from our experts why we inspire frontline workers.
Share
Don't forget to share this content